Electric Fence Security System from Australian Security Fencing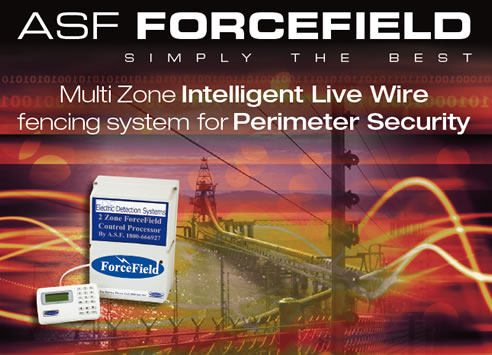 The ASF ForceField® security electric fence system uses unique patented technology to monitor perimeters and fence lines.
Micro processor based controllers monitor real time voltage, short to ground, cutting, cross coupling and dual circuit integrity.
ForceField® controllers have the ability to operate in high voltage mode, low voltage mode or a combination of both.
The ASF ForceField® system provides a formidable perimeter barrier with exceptional low false alarm rates beyond other systems.
All systems comply to AS/NZS 60335.2.76:2003 & AS/NZS3014:2003.
DUAL PULSE CIRCUITRY
HV/LV MONITORING
MULTI ALARM TECHNOLOGY
EXPANDABLE TO 1000 ZONES
WINDOWS OPERATING SYSTEM
AUSTRALIAN MADE