EJ Australia Hosts Asia Pacific Business Planning Conference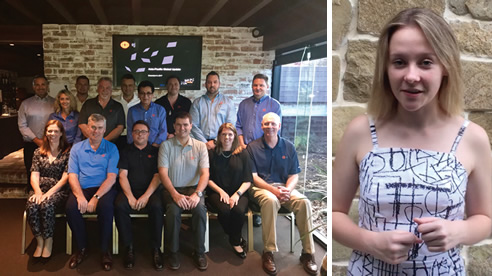 Deep Inside EJ Beats A Lot of Aussie Heart.
EJ may be a major global brand in access covers and grates pertaining to managing utilities such as stormwater flow, electrical and digital distribution, but the company prides itself in keeping its finger on the local pulse, too. Thinking global, acting local.
At our annual Asia Pacific Business Planning Conference recently held in Brisbane, the relative youthfulness of the Australian EJ brand was highlighted when the conference was officially opened with a presentation by 17 year old high school graduate, Lia Gerry.
Lia surprised everyone, including our esteemed international visitors, when she launched into her unique version of slam poetry; a lively presentation that wove together the Aussie spirit with corporate EJ values.
It was such a spirited recitation, so impressive, that delegates clambered for a copy of it. However, the conference was not video recorded. But in true Aussie spirit, Lia agreed to return to record and distribute copies worldwide. You can always count on an Aussie EJ to be innovative, even when it comes to opening a conference.
If your next project warrants highest quality product, sourced from EJ manufacturing facilities around the world, delivered with true blue, no-nonsense reliable Aussie service, see your local EJ branch or call us on 07 3216 5000. Oi oi oi!