MAXI BEAM Lightweight Timber Beams from SUPAWOOD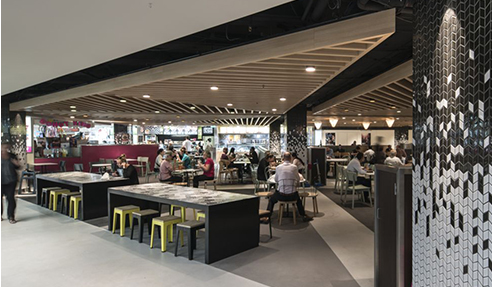 Leffler Simes Architects rejuvenates dated city shopping centre
SUPAWOOD's MAXI BEAM lightweight timber beams have created a new vibrant atmosphere in the food court of the Leichhardt MarketPlace in NSW.
Leffler Simes Architects created a design for the food court that incorporated floating beamed rafts suspended from the ceiling. The design could not be achieved with solid timber without the cost of reinforcing the structure above. Instead, the designers sought a lightweight timber beam product that would achieve their desired look, meet BCA regulations, and would also be easy and clean to work within a live environment.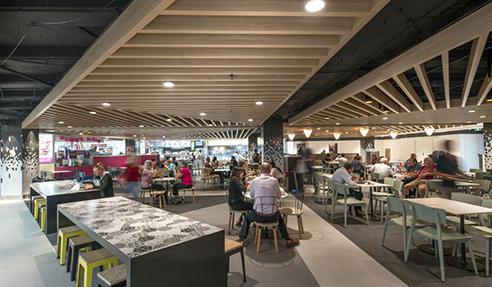 MAXI BEAM was the ideal beam solution for this project application because it is so lightweight, comes in standard lengths for easy specifying, and can be cut and assembled onsite with minimal mess or noise. MAXI BEAM's lightweight also made the logistics of getting the beams into the site area a breeze.
In this project, large floating beam rafts create a warm welcoming feel while defining the area of the food court. However, they also have the important practical function of hiding the ceiling structure and services above while maintaining access to that space.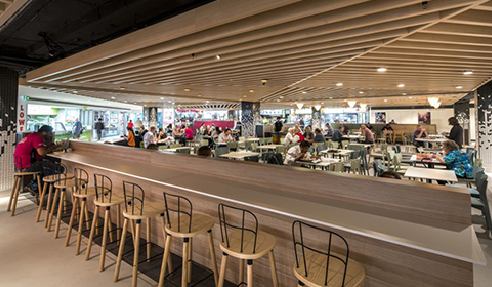 SUPAWOOD supplied 1759 linear meter of 200 x 50mm beams in standard lengths of 2780mm, a total of 600 units. These were then cut to size on site and assembled. The beams are finished SUPALAMI Light Tas Oak laminate, which is very durable and low VOC.
"I understand all went well, and the client is very pleased," Eloise Sardelic, Leffler Simes Architects.
"Very pleased with the end result on Leichhardt Shopping Centre. Very good design," Michael Chen, Auzoom Plaster Linings.
Learn more about the MAXI BEAM lightweight timber beams by visiting www.supawood.com.au.