Award Winning Kove LED Adjustable Luminaire from Intralux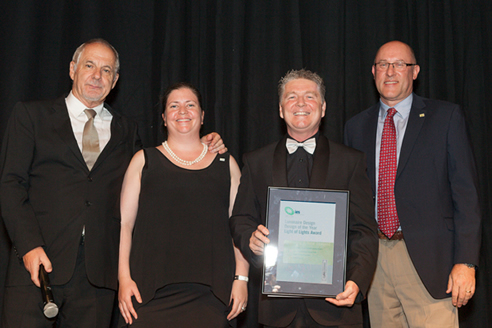 INTRALUX AUSTRALIA TAKE HOME 2015 INTERNATIONAL
LUMINAIRE DESIGN AWARD & 2015 LIGHT OF LIGHTS
Intralux Australia is proud to announce the winning of both the 2015 International Luminaire Design Award AND the Light of Lights Award 2015 at the recently passing IESANZ International Awards Celebration in Brisbane Australia. Kove LED Adjustable - Award Winning, Australian Made, specification grade pelmet lighting system.
Kove LED Adjustable is an exceptional product with limitless indirect lighting possibilities.
An extract from acceptance speech by Intralux Managing Director, Mr David Tilbury -
"It is nice gaining some ratification and recognition for our design team and the engineering that goes into these superior products. The market has dramatically changed in recent years with advent of LED technology along with a massive influx of imported product which only 'ups-the-anti' for product design people like us. I would say let's not lose sight of the recognition for Australian Luminaire design as we are seeing many industries disappearing in this country and we don't want to become a nation of importers. Another milestone for Queensland and indeed Australia!"
Kove LED Adjustable incorporates an effortless, 'no tool' adjustment mechanism that enables the beam direction to be adjusted in incremental steps between 0-36°. This feature allows the luminaire to be adapted to a wide range of pelmet lighting applications.