Interior LED Lighting Design Case Study from Intralux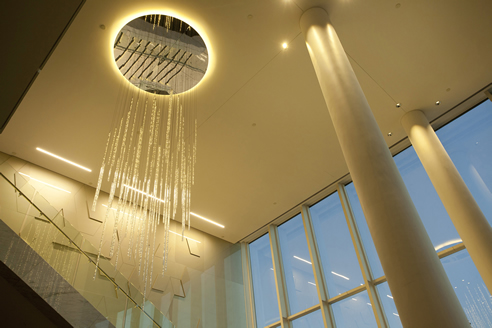 RACV ROYAL PINES, GOLD COAST, QLD, AUSTRALIA
Award winning Lighting design from Tony Dowthwaite Lighting Design (TDLD)
Utillizng the Enepro Xicato LED Downlights
TDLD (Tony Dowthwaite Lighting Design) was approached to be a part of the design team for the RACV Royal Pines Ballroom and Pre-function room refurbishment located on the Gold Coast. Led by DBI (architects) and Joseph Pang Design (interior design), the team worked together to create ainterior suitable for all manners of occasions.
What is RACV? A premier events venue located on the Gold Coast which plays host to weddings, business conferences, product launches, galas' and more.. As with all commercial project work the design team worked within cost guidelines that meant the inheritance of the ceiling/coffer forms in the ballroom from the previous design as one example. The brief was to produce a lighting design that was both functional for various types of conference, and flexible enough for intimate evenings of dining and dance. The main method of achieving this is, of course, lighting control however a combination of difference lighting technologies and techniques also contributed to the desire and ability to create 'light texture'.
One aspect of the lighting design was the use of recessed down lighters - the downlighting systems utilizes various highpower LED performance fixtures given the high ceiling spaces involved. The majority of the down lights used in this project are the locally produced Intralux Enepro X fixtures which feature the high quality and highly praised Xicato LED Technology. These fixtures were selected for both these reasons, local manufacture and quality of light source.