Trafficable Stormwater Tanks - New StormBrixx® Website by ACO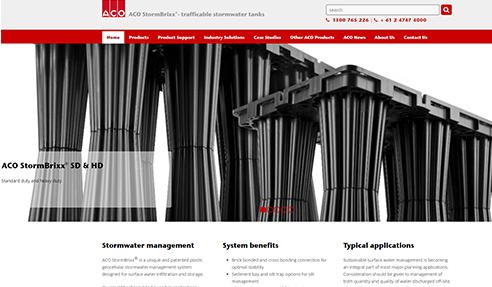 Australia's global leader in water management, ACO creates a more convenient method for engineers and specifiers to view more detailed specifications of its flagship product. More intricate information about StormBrixx® Trafficable Stormwater Tanks is now easily accessible at www.acostormbrixx.com.au.
The new StormBrixx® website is inspired by a minimalist idea with an ultimate focus on providing quick and clean access for its users. The homepage brings together all the general information about the stormwater management system including benefits and typical applications. It is further enhanced by a photo slideshow of the system's official photos, accompanied by a short description.
The upper toolbar makes it easier for users to locate product specifications, support, industry solutions, case studies, news, and other ACO products. It is accessible on any page, even when scrolling down.
For further inquiries, contact ACO or head over www.acostormbrixx.com.au.