'Geode' Custom Grate Design for Adelaide by ACO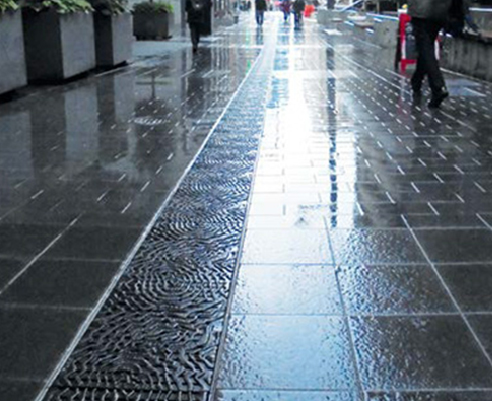 Freestyle Grates for The Market to Riverbank Link, Adelaide, SA
Renewal SA is a joint venture between the City of Adelaide and the South Australian State Government to upgrade the city's key streets. The Market to Riverbank Link project aims to create an exciting and vibrant connection between the Adelaide Central Market and Adelaide Riverbank.
Project Design Brief
Designers wanted to create a more visually interesting link between the markets and the riverbank for pedestrians and cyclists with paved footpaths, tree canopies, public art, street furniture, lighting and custom designed grates. The shapes of the amethyst geode mineral deposits local to the region inspired the custom grate design.
ACO's Solution
KlassikDrainK300 system with custom designed Freestyle Grates named 'Geode'.
ACO's Research and Development department took the artist's concept and developed it to the finished installed product.

Benefits
ACO custom-made the iron grates to the councils' unique design and specifications.
8mm slot and slip resistance rating of P5 to AS 4586 met the requirements for pedestrian safety.
DrainLok barless and boltless locking mechanism enables easy maintenance.
For more product information, please visit www.acodrain.com.au today.