Carlisle Coatings & Waterproofing Eco-Fast II deck coating system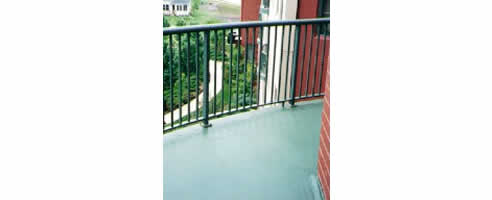 The Eco-Fast II Deck Coating System is applied to concrete decks to prevent water from entering the occupied space below, to protect the surface to which it is applied from damage by water and salts, and to provide a slip-resistant, attractive wearing surface. This deck coating system is a two-component, solvent free, 100% solids deck coating system which is excellent for pedestrian walkways, balconies, rooftops and mechanical rooms where traditional deck coating attributes may be discouraged. The Eco-Fast II system can also be used for vehicular applications, such as interior/exterior parking garages and ramps, by simply modifying the applied thickness and aggregate used.
Features & Benefits
Durable for long wear characteristics - High impact and abrasion/ tear resistance with excellent crack-bridging and waterproofing capabilities. Highly resistant to ultra violet light.
Fast-cure for quicker installations - Fast-Cure times allow for multiple coats to be applied on the same day reducing downtime.
V.O.C. Compliant. 100% Solids - Environmentally friendly, low VOC's suitable for Green Building Projects, remedial & internal applications. Solvent-free; non-flammable.
Excellent Elongation and Shore A hardness - High elasticity at low temperatures. Very high tensile strength for maximum stretching force before breaking.
Versatile Coatings - Extremely Hydrophobic Coatings approved for interior and exterior surfaces. Bonds to concrete, CFC sheets and wood surfaces. U.V stable top coats.
Complete Waterproofing - One Company
A complete line of waterproofing solutions and the expertise to help you select the one that is best for your project.
1300 764 644
Unit 10, 17-21 Bowden Street, Alexandria, NSW, 2015