Manhole Safety Step Irons from EJ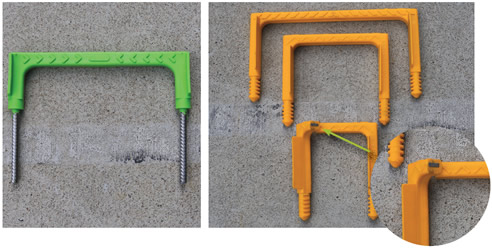 EJ Takes Positive Steps In Manhole Safety
When submerging into the dimly lit void of a pit or manhole, being sure-footed is everything. Which is why specifiers seeking quality, long lasting solutions turn to EJ.
A smart range of step irons are available from EJ as used in a variety of applications ranging from sewer and stormwater manholes to pits and water tanks. They're made from high strength steel bar, fully coated in a tough, brightly coloured, UV stablilised polypropylene co-polymer that has no sharp corners, and that feature a 25mm high vertical foot stop to prevent work-boot slippage.
Others on offer come with a tail length of 150mms in extra-durable stainless steel, which are perfect for either new or retro-fit applications. Once again, they are coated in brightly coloured polypropylene for easy identification in the dark and a more sustainable life.
The polypropylene used in the manufacture of these step irons is of a premium grade, resistant to attack by chemicals that often occur in sewer and stormwater systems. They can be set into pre-cast structures during the concrete pour, caulked into a drilling hole with epoxy resins or quick setting cement, or can be fitted into tailored inserts which require no epoxy.
EJ has stock in three step widths: 375mm, 225mm and 175mm. A Stainless Steel step iron is also available at 350mm wide and we maintain a stock of insert ferrules.
A simple, economical solution is a galvanized iron step that has been carefully made with rounded corners and a thick steel rod that will easily manage any solidly built worker. It comes with a galvanized iron backing plate.
For detailed specifications, check with your nearest EJ branch or call 07 3216 5000.