Drainage with Anti-Slip Grates for Blacktown Tennis Centre by ACO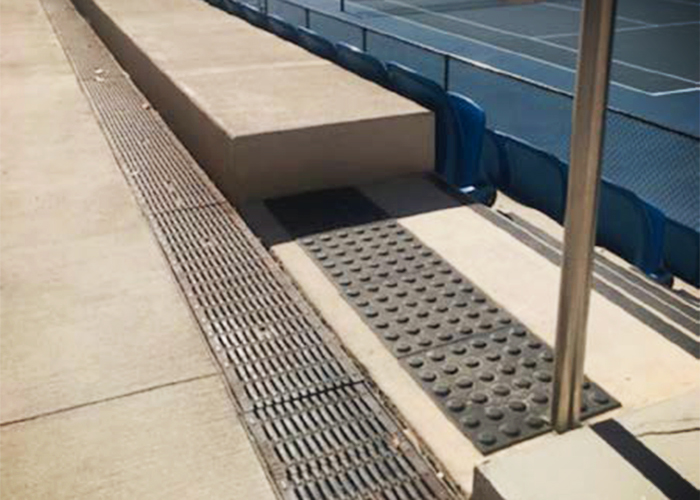 Blacktown Tennis Centre, Stanhope Gardens, NSW
The Blacktown Tennis Centre opened in August 2016 costing $16 million and adjoins the existing Leisure Centre. It is the largest tennis centre in NSW and enables Blacktown to host state, regional, and local tennis tournaments. The facility has 16 courts, including four championship size courts and a centre exhibition court. The courts are designed for multi-sport use with LED lighting. The centre features a 288-seat grandstand and a series of corporate boxes overlooking the centre exhibition court.
Project Design Brief
Efficient and easy to maintain drainage infrastructure was required for the hardstand areas around the exterior of the courts. The drainage system needed to be strong to withstand vehicular traffic and the grates needed to be pedestrian safe to meet the client's slip resistance requirements and prevent the penetration of high heels.
ACO's Solution
KlassikDrain K200 system with Iron Intercept Heelsafe® Anti-Slip grates.
Benefits
The 0.5% slope within the KlassikDrain K200 channel ensured the flat pavement could be drained efficiently.
The Iron Intercept Heelsafe® Anti-Slip grate provides a slip resistance rating of P2 to AS 4586 and load class rating of D to AS 3996, which met the designer's specification requirements.
The KlassikDrain QuickLok boltless locking mechanism enables quick fitting and removal of grates, which reduces maintenance time.
For more product information visit www.acodrain.com.au.