Steel Recessed Access Covers from ACO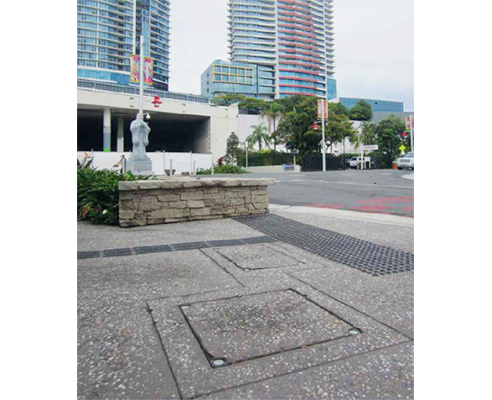 Chinatown on the Gold Coast provides an authentic Asian experience with retail outlets, restaurants and cultural festivals attracting tourists, business people and students from Asia. Chinatown is located on Young and Davenport Streets at Southport. The area is continually evolving and has undergone a $3.5M revitalisation to the streetscape.
Project Design Brief
The upgrade to the Chinatown streetscape necessitated increased electrical and communication services including power, lighting and CCTV camera cables requiring numerous cable enclosures. The designers wanted the numerous cable enclosures in the pavement to be visually discreet and secure to prevent unauthorised access.
ACO's Solution
Urbanfil® steel recessed access covers.
Benefits
Urbanfil® access covers are recessed to allow for the bedding of pavement materials such as concrete and pavers.
The discreet 2mm top edge on the cover and frame provides minimal visual impact on the pavement.
Four high tensile M16 locking bolts secure each enclosure.
For more product information visit: www.acoaus.com.au/access