Lightweight Timber Beam Panels from Atkar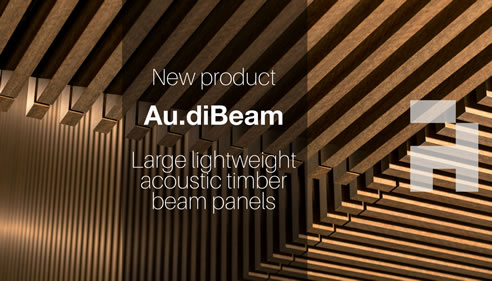 New Product: Au.diBeam
Introducing our large lightweight timber beam panels, Au.diBeam.
Offering a seamless and three-dimensional contemporary look, with excellent acoustic properties, Au.diBeam is our newest product in the Infinity range of acoustic and architectural products.
Separate pre-finished timber beams are mounted in a modular panel array which is treated acoustically with our optional Sonus 2.0 Integrated Acoustic Backing, resulting in a optimum acoustic performance. The panels can also be supplied non-acoustic for an open-plenum application.
Au.diBeam is designed and manufactured in Australia and can be fully customised for your project requirements. The beams are lightweight and supplied as pre-laid panels, with sizes up to 3600 x 600mm. Panels are screw fixed to a conventional furring channel or batten system, and when installed, a continuous linear effect is created, which is equally at home in contemporary or traditional interiors.
With the large beam look, your design will achieve the natural warmth and characteristics of timber, large size!
The panels are available in a range of veneer and decorative finishes from Atkar's standard Inluxe range, with custom options also available.
Contact Atkar Group for a product demonstration.
https://atkar.com.au/architectural/introducing-audibeam/