Airport Hinged Hatches from EJ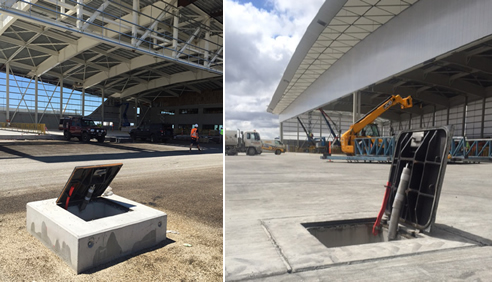 When the Stars Come Back to Earth, The Stars from EJ Greet Them
When rockstars, sports celebrities and international VIPs come down to earth - literally, that is - they might catch a glimpse of a series of EJ FOD and F900 covers that are integral to servicing the underground infrastructure of the new $100 million, state of the art Melbourne VIP Jet base.
If these covers do catch the VIP eye, they would still not comprehend the superior, innovative design, quality of manufacture and client service that is built in to every EJ access cover, grate and fire hydrant.
In the case of this project, solutions for the fire hydrants and water treatment facilities, the lynch-pins of this massive structure, were installed with nimble, efficient and trouble-free precision, because of each product's technical ingenuity.
When you consider it costs $1500 a day to park a jet in this facility, quality should be greeted with quality. With three jets operating from the base, as well as helicopters, heavy and frequent traffic movement is an imperative consideration and all EJ covers and grates are built to specification to take this kind of tough stuff.
For more information about our specialized Airports and Seaports services, contact your nearest EJ branch or headquarters on 07 3216 5000.