Surface Cable Ducting Systems from ACO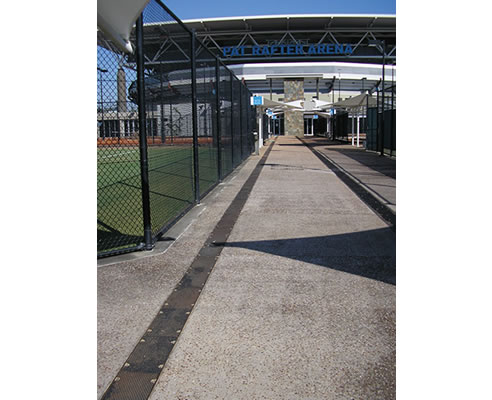 ACO Cablemate®
Pat Rafter Arena - Tennis Centre, QLD
Specifier: Populous
Product Featured: Polycrete® Ducting CS200
Other ACO Products Used: Grated trench drains, access covers and other trafficable cable enclosures
The Queensland Tennis Centre encompassing the Pat Rafter Arena was purpose built to broadcast matches from the outside courts.
The centre has 23 international standard tennis courts with all the major playing surfaces, hard-court, clay and grass.
With a cross section of broadcasters to cater for, designers chose a flexible communications system that allowed for the broadcasters to set-up and dismantle their external broadcast facilities as the tennis tournaments were held.
ACO's Polycrete registration mark Ducting was specified for the surface cable ducting system.
The modular channels, manufactured from durable polymer concrete along with the ductile iron lids were the ideal choice for the heavy traffic loads imposed by the broadcast trucks. Removable bolted lids allow for quick access to the trench for cables to be rolled in and out.
For more product information visit: www.acoaus.com.au/cablemate