Non-Slip Ductile Iron Trench Covers from EJ Australia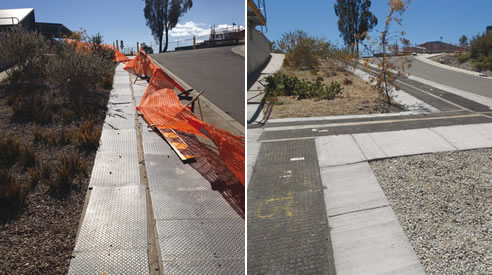 EJ with a phoenix solution
Australian Capital Territory
In January 2003, Canberra was ravaged by a raging inferno of bushfires. The Mt. Stromlo Water Treatment Works and surrounds were gravely damaged including 300m of trench grates. Not only did these trench runs carry cables, they also played a dual role as a walkway.
Following the fire, these trench runs were replaced with the simplest and most expedient solution. However, with a few years of Canberra's infamous weather extremes, the mild steel expedient solution became the problem solution as the covers became dangerously slippery and eventually buckled in the conditions. They had to be replaced, but finding a company that could provide the right product backed by enthusiastic service seemed elusive.
Enter EJ. Team members from New South Wales and Queensland took the initiative to visit the site and provide a solution that will last a lifetime. Non-slip ductile iron trench covers by EJ, now provide a safe and long-lasting answer. There were a few curly problems to overcome as well because of changing slopes and plumbing intrusions. But EJ had the answer.
It should be noted that our solution was a collaborative effort with AAT Alliance providing for ACTEW in conjunction with Tenix.