Manhole Cover Customisation from EJ Australia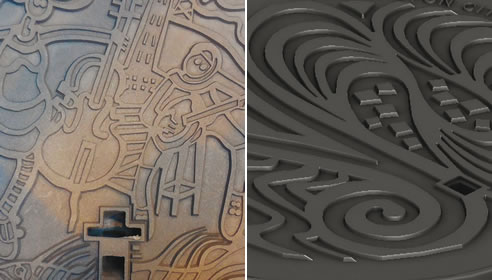 How About Some Community Pride
Built into Your EJ Manhole Covers?
What can a local authority do to indelibly stamp its brand image on its own infrastructure? Try using the most unlikely of mediums, the humble manhole cover.
This ingenious trend has become something of an institution in the United States and throughout much of the European continent and is slowly being adopted in the Asia-Pacific region in which EJ is now well established as suppliers of first grade manhole covers.
When authorities need to badge their street-ware for security reasons, or if they just want to promote their community to locals or travellers, what better way to go than to have the name right there on the streets, pavements, boulevards and malls. EJ can simply cast the crest, badge or logo into manhole covers, and if the infrastructure owner prefers can opt for colour treatments as well.
New Zealand was one of this region's early adopters of the practice with Wellington leading the way with their unique Maori influenced motif. Other New Zealand cities to badge their street-ware include Christchurch and most recently, Nelson.
Here in Australia, one of our first communities to bare and share their community crest was Wingecarribee Shire Council in the Southern Highlands of New South Wales.
And now the concept is being adopted by other Australian regional shires and city councils. In fact, we are now awaiting approval of designs that have been lodged with several authorities.
Of course, local authorities are not the only owners and operators of such infrastructure items. Water, sewerage, electricity, gas distributors and telecommunications operators all use our manhole covers and can avail themselves of exclusive branding of their street-ware.
It's security, marketing and civic pride all rolled into one simple process. For more information about how EJ can uniquely mark your covers, please call your local EJ office.