Woodcore Panel Access Floor System from ASP Access Floors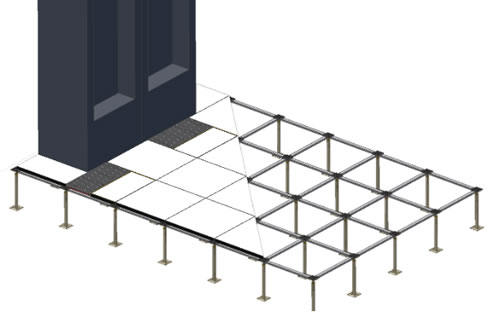 ASP Access Floors offers a CWC system that is designed to cater for small to medium data/comms/switch room environments. This panel was originally developed to give builders, architects and building owners an alternative to the cementitious panel.
System Applications:
Any small to medium sized application with the necessity for an antistatic high pressure laminate finish such as:
1. Switch rooms
2. Data rooms
3. Comms rooms
4. Computer rooms
5. Server rooms
Design Features
HPL:
1.6mm high pressure laminate finish applied to panel in ASP standard finish. Custom and specialised HPL colours available on request. The panel is edged with an ABS plastic trim to protect the water resistant chipboard core.
Gravity Fixed Panels:
Panels are gravity fixed to the pedestal head. Location of the panel is achieved using the gasket and its unique locating tabs.
300 x 600 Half Panel:
ASP has designed and manufactured a special full load bearing 300 x 600mm panel for the CWC system. This panel is used: 1. When there is a necessity for an 300 x 600 air grille. 2. When finishing off to the perimeter.