Manhole Cover Solutions New Zealand from EJ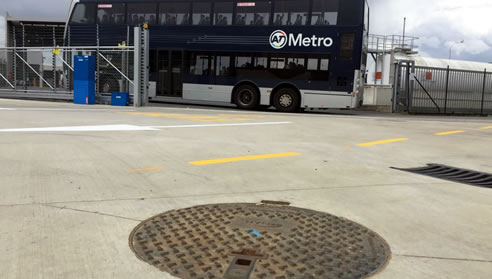 Between Hynds and EJ, We've Got the Kiwis Covered
Since the launch of the BRIO™ hinged cover to the NZ market in 2008, EJ and Hynds have worked together to promote innovative manhole cover solutions for infrastructure upgrades. More recently, the MAESTRO™, TWINO™ and MAXIMO™ have been adopted for sewer and storm-water networks in Auckland, Wellington, Christchurch and Nelson.
The MAESTRO™ solves so many problems that are specific to New Zealand, but are also quite common in other parts of the world. They feature a patented hinging system and an innovative torsion bar construction to allow the covers to pop under head conditions but not open fully. This allows the pressure in the system to be released and the cover to be snap-closed with the next run of vehicular traffic.
But, if the covers need to be locked securely at all times, a built-in, stainless steel cam-lock system is available which eliminates the need to hassle with bolts.
MAESTRO™ covers can also be cast with logos or insignia as is the case for the cities of Wellington and Christchurch. Coloured versions of logos are also available. For information about MAESTRO™, TWINO™ and MAXIMO™, please check with your nearest branch of EJ or contact 07 3216 5000.