360 Degree Seamless Acoustic Panels from Atkar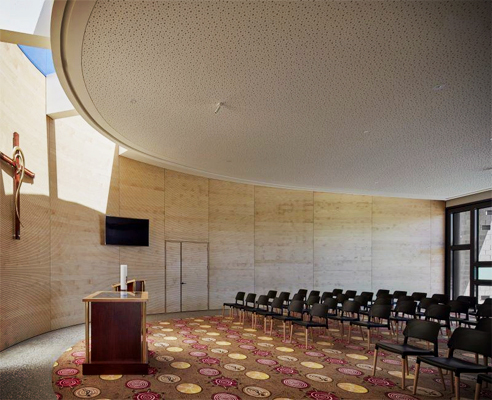 A new school Chapel able to double as a multipurpose room which required a flexible acoustic solution from a reputable supplier. High ceilings and curved walls had the potential to create reverberation challenges highlighting the imperative need for acoustic control in this new Chapel.
With the ability to double as a multipurpose room seating 140 people internally and an additional 240 on tiered seating externally, speech intelligibility was a core requirement. Atkar's high performance Au.diGroove was the ideal solution with the panels being custom curved to line the walls from ceiling to floor seamlessly.
The Hoop Pine veneer finish achieves a warm and inviting ambience mingled with strategically positioned ceiling lighting and windows.