Coloured Heelproof Grates from EJ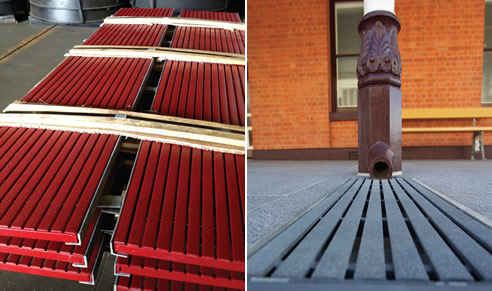 Walking On Sunshine With EJ HeelProof™ Grates
Those who design spaces where grates are used will appreciate the idea that they don't need to use boring grey product, unless they are deliberately specified to match surrounding bare concrete. With HEELPROOF™ grates, they can add a burst of sunny colours to their projects.
At EJ, we can supply drainage grating that is not only heel proof, but is also colour specific as either a design feature or as an added safety feature. HEELPROOF™ by EJ has less than 9mm apertures and the longitudinal grating bars are coated in a non-slip grit-painted compound.
They can be colour coded to match or contrast with your other colour palette to either stand out as a visual element or to be a demarcation line or warning zone.
Additionally, independent testing confirms HEELPROOF™ grates from EJ, test to AS/NZS 4586:2004 CLASS "V: Very Low". This highest rating result confirms that HEELPROOF™ grating achieves a very low contribution to the risk of slipping when wet, in all directions.
At EJ, we are known for our quick delivery of high quality product and customised solutions including, colour coding, decorative edged covers, stainless steel identification plates, cast in logos and slogans. And that includes HEELPROOF™ grates. If you need us to consult with you on your next project, get onto your nearest EJ Team or call 07 3216 5000.