Dunes Wall Panels from 3D Wall Panels™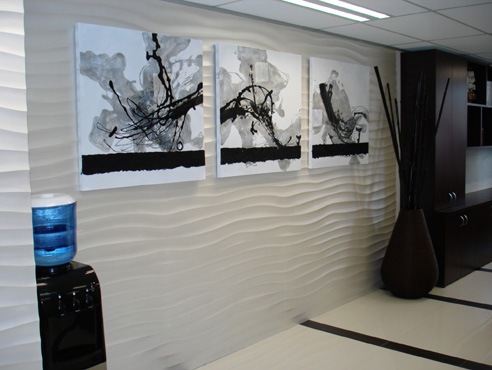 When my client approached me to design his legal office from scratch, he told me he was after a 'wow' factor, and wanted a modern touch on timber wall paneling, often seen in legal practices. That's when I came across your 3D Wall Panels. They looked modern and unique.
We went through the possible designs on your website and finally decided on the "Dunes" design. Ordering and delivery of the wall panels was very easy, as was installation. The price was also very reasonable. As my client was just starting his own business, he was very price conscious and was pleasantly surprised to find out that what would give his office the 'wow' factor wasn't going to cost the earth!
The panels were delivered when specified and I found the whole process to be very professional. As we ordered the 3D Wall Panels unfinished, we decided on a pearlescent paint finish. The final result as you can see was fantastic! George loves his office as do his clients and that's a great result for George and I!
Sarah Selim Sarah's Touch Interior Designs