Decorative Wall and Ceiling Acoustic Panels from Atkar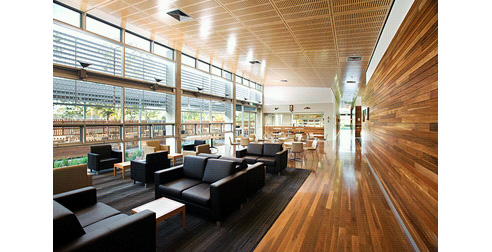 The Australian Defence Force required a new state of the art facility for the training of its air force personal. The existing facilities at RAAF Sale were dramatically upgraded with a new Officers Mess, Theatre, Learning Centre and Accommodation buildings.

Bligh Voller Nield architects designed the buildings with maximum acoustic performance in mind specifying Atkar's wall and ceiling panels solutions for a visually integrated result. The Officers Mess features Hoop Pine plywood Au.diSlot panels which add warmth whilst accentuating the unusual length of the space. For the Theatre, Au.diSlot panels with an Au.diImage Rock Maple finish were fitted to ceilings and walls custom slotted to follow the stair line. Atkar's Au.diMount concealed fixing systems ensured efficient installation and future flexibility. Inside the Learning Centre, Atkar installed an Au.diTile Meteor ceiling solution together with an Au.diFrame anodized aluminium grid.