Lightweight Joists and Beams from TECBUILD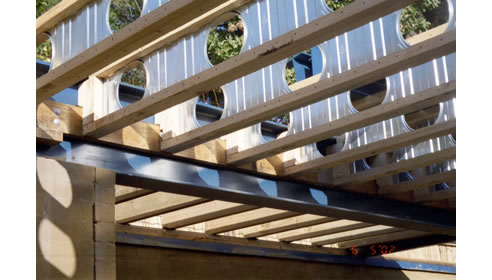 TECBEAM® joists are composite structural 'I' Beams which have a continuous steel web and timber flanges.
The composite beam design is an ideal combination of the structural properties of steel and timber, this results in a light weight beam with structural properties resembling more like those of a steel beam rather than a solid timber beam. For a more detailed description of the products structural features please refer to the Design Guidelines.
THE CORE TECHNOLOGY
The core technology comprises the composite design and the unique coilable press-formed steel web. Timber flanges, of plantation-grown structural softwood, are fixed by nails and/or spikes to each side of a continuous steel web which has press-formed stiffening ribs and uniformly spaced service holes.
The large, regularly spaced service holes in TECBEAM® joists, provide time saving convenience for all trades to install services such as: pipework, air conditioning ducts and cabling; eliminating the need for tradesmen to cut holes in the joist webs or build bulk heads.
A TECBEAM® designed floor can often replace structural steel beams used in conventional layouts, this can amount to significant savings in time and cost. The joists have been extensively tested and proven as a structural beam in thousands of buildings since it was first introduced to the competitive Victorian market. The joists are suitable for use in all types of floor and roof construction in: houses, multi-storey units, offices, schools, gymnasiums, hotels, hospitals, warehouses, car parks, etc.