Tyvek® HomeWrap® Building Membrane at Treco Steel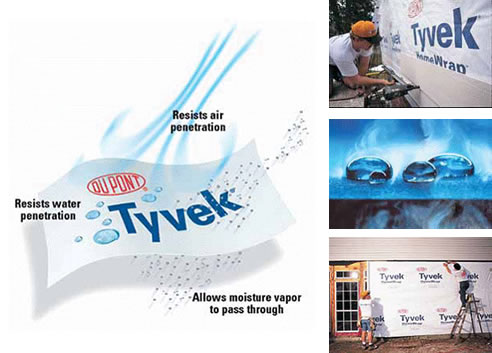 An effective building wrap saves money in the long run and protects what is always a significant financial investment. A building membrane, installed under the outer cladding, should facilitate vapour permeability, allowing moisture to escape to aid in the prevention of mould and mildew. At the same time, it should form a protective skin against wind and rain to prevent costly water damage and provide a dry, comfortable, healthy and energy efficient living space.
TYVEK® HOMEWRAP® - THE HOLE STORY
The difference between Tyvek® HomeWrap® and other commonly used building membranes is the absence of punched holes and perforations which can result in water leakage through the wrap.
DuPont™ created Tyvek® HomeWrap® to provide a balance of properties for superior performance against the elements and optimal protection against the effects of weather and the ingress of moisture. In simple terms this means letting the vapour out (breathability), resisting air infiltration and preventing water intrusion.
When it comes to the potential for future concerns about the integrity of the building and possible litigation, you can be confident that Tyvek® HomeWrap® provides the very best protection available.
Tyvek® HomeWrap® is lightweight, quick and easy to fix, yet extremely strong and durable. You'll be impressed with how convenient and effective it is to use as a building material and, of course, any time you save in wrapping and cladding is a major business and financial positive.