Security Screening Systems with ALU-GARD from Alspec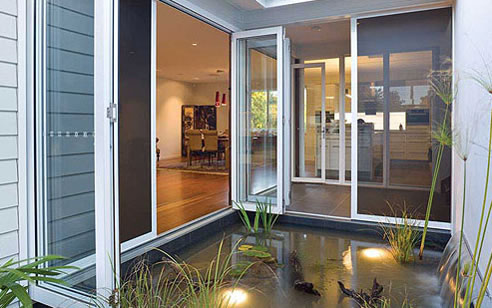 ALU-GARD Security Screening Systems
The All-Aluminium security screening solution for Australian conditions. ALU-GARD is a perforated aluminium sheet retained in an extruded aluminium frame.
ALU-GARD not only provides security, clarity of vision and strength, it is also corrosion resistant and looks great.
ALU-GARD Design
ALU-GARD utilises a strong (2mm thickness), non corrosive aluminium sheet that is perforated and powder coated to exacting standards. The sheet is retained in a frame with our riveted aluminium wedge retention system. The resulting screen is strong, extremely resistant to corrosion and provides clarity of vision.
The Complete Range
ALSPEC now offers the complete range of screening systems from our top of the range INVISI-GARD Stainless Steel Security Screens, through to ALU-GARD, Federation Cast Panels, Diamond Grilles, one way vision mesh, fibreglass and aluminium insect screen and all the associated accessories.
For a history of great service and quality built products when considering an aluminium screen door system, there's only one place that has all the solutions - ALSPEC.
Custom Built
All ALU-GARD products are custom built, made to measure to suit your exact requirements.
ALU-GARD Security Screens are suitable for a wide range of residential and commercial applications including the following:
Hinged Doors
Sliding Doors
Security Window Screens
Balustrade
Fencing
All fixings are covered with an adaptor ensuring a smooth and clean finished product.