Elements of Byron luxury resort development by Alspec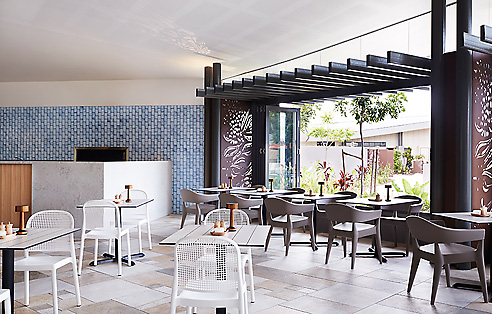 Following six years in planning, design and development the 50-acre beachfront masterpiece has received much acclaim since welcoming its first guests last year.
Byron Bay's new $100 million Elements of Byron Resort at Belongil Beach, just north of Byron Bay township, has successfully hit upon a barefoot luxury formula that is distinctly its own and admirably place-sensitive.
Inhabiting 20 hectares once owned (but never developed) by Club Med, it comprises 94 villas and three main pavilions shaped to mimic the dunes. In fact all design, a collaborative effort between owner Peggy Flannery, Shane Thompson Architects and Coop Creative, was driven by the four "elements" of the landscape: rainforest, dunes, eucalypt trees and wetland.
Alspec's Hawkesbury Commercial Multi-Fold Doors along with ecoWALL 225 Flush Glazed Framing accentuates the key features of the open-air main pavilion which houses reception, plus the bar and dining areas, where subtle creativity pervades in bespoke sculpture and light installations. The featuring colours are those of natural elements and the bright staff are pure Byron in their cheery welcome and smart casual uniforms.