Alspec Launch New Website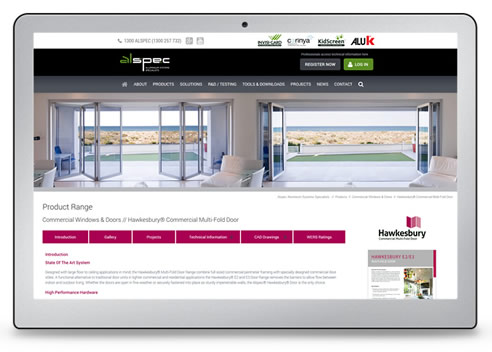 NEW ALSPEC WEBSITE
Alspec is pleased to announce the release of our new and updated website. Now 100% mobile responsive and designed with a fresh new look and user-friendly navigation.
You will see a significant change to the layout of the product pages, designed to give you more information in less clicks.
- First tier navigation lets you hover over each product suite showing 'Quick Specs' so you can decide if that is the product for your next project.
- A new Technical Specifications table for each product shows all of the relevant performance criteria such as wind and water ratings, U values, max sizes, glass options, acoustics, cyclonic, BAL-40 etc
- All Technical Memos are now available under the one product page so you can see first hand any updates that have taken place.
- The Tech Memo PDFs are now indexed and searchable so if you use the search function on the top right of the Home page it will return results for information located in Tech Memo PDFs.