Ductile Iron Grates and Storm Water Covers from EJ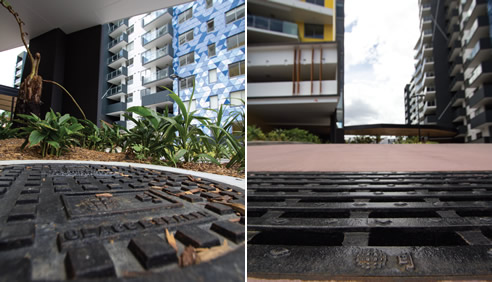 First Class all the Way with EJ At Pradella's Gardens Complex
Home to residents of 238 brand new apartments, Pradella's impressive Gardens Apartments precinct has now come to life. The near-city complex features more than 5,500 square metres of open landscaped green space and cool pools.
Throughout the twin 12 storey buildings and gardens, EJ makes its presence known with ductile iron grates in driveways and walkways and stainless steel slip-free and HEELPROOF™ Grates throughout the expansive project.
The ductile iron grates in both longitudinal and transverse formats are cycle friendly and slip-free and because they've been manufactured using the most robust raw materials will last a lifetime even being subjected to any amount of pounding traffic.
But there's more EJ. Amongst the landscaping, EJ cast iron storm-water covers and galvanized light steel grates ensure that when it rains here it drains here, too, quickly and efficiently.
EJ is the popular choice of architects and engineers across the country because of their high quality, diverse product range and the excellent personal service provided by the team at EJ. For more information about all of our products, please check with your nearest branch or call EJ on 07 3216 5000.