Secure TWINO Locked Down Covers Covers and Frames from EJ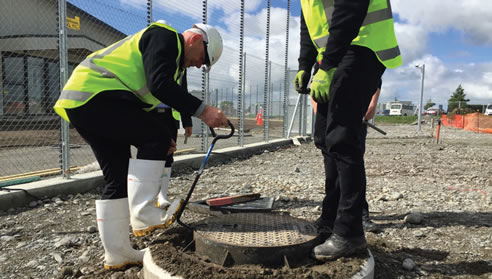 Locked Up in the Lockup - TWINO™ Covers & Frames by EJ
The TWINO™ SRL is the locked down version of the ever versatile TWINO™ cover and frame, cast in high quality ductile iron at the EJ foundry at Picardie, France. Twenty units were delivered to the Men's Remand Centre at the Christchurch Prison for use on the newly constructed sewerage system.
Security is essential in correctional centres so having the capability of being locked down, TWINO™ SRL covers were the obvious choice. Further options include a standard hinged cover, the secure locked version and a vented model complete with a galvanized 'mud pan'.
Not only has TWINO™ been in use in New Zealand for the past seven years, but EJ products have been used extensively in other facilities in the Asia-Pacific region, including the Sir David Longlands Centre, Wacol, Lotus Glen, Woodford, Gatton, Kempsey, West Kimberley and New Acacia.
Locking covers are a specialty of EJ not only for correctional institutions, but also for telecoms, fibre optic, storm-water and sewer networks around the globe. Other applications include military bases, government buildings and data centres.
In the US, are they in use at Folsom or San Quentin prisons? If they are, there's little doubt they'd be painted in Johnny Cash black.
For more information about our locked down covers, please contact your nearest EJ branch or call 07 3216 5000.