Mirage 3D Wall Panels for Melbourne Water from Atkar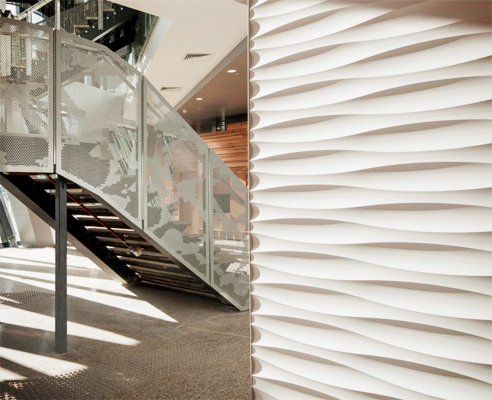 A new headquarters for Melbourne Water with sustainability being the core focus central to its daily operations. Not just your ordinary blank walls, the open public areas and high ceilings in this cutting edge sustainable design called for something interesting and attractive to compliment such a project.
Atkar Mirage 3D panel were the perfect solution to the Architects quest for feature walls and lift lobby areas. Lending character and finesse, the walls come to life oozing freshness and vibrancy with the striking 3D illusion inviting people to interact with their surroundings.
These panels were custom made to size with an integrated seamless pattern flow across all panel joints. The thermolaminate ensures a durable and resilient finish making it ideal for public areas. Another high profile project completed with outstanding results.