Ductile Iron Access Covers for HOTA Queensland from ACO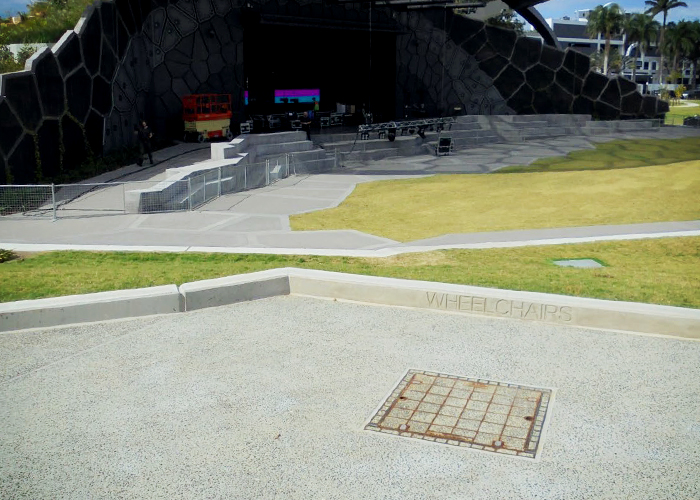 HOTA, Home of the Arts, is located on the banks of the Nerang River in the Gold Coast, Queensland. It is Australia's new destination for music, theatre, dance, comedy, opera, cabaret, and kids shows. HOTA is also home to the Gold Coast City Art Gallery. Building works for stage 1 is complete, comprising an outdoor stage and concert lawn catering for a wide range of civic events and performances for up to 5000 people.
Project Design Brief
The introduction of new lighting, communications, power, and CCTV to the venue required the installation of new cable routes. Cable pits, positioned along these routes, were installed in a number of paths leading to the outdoor stage. Exposure to frequent vehicular traffic from service trucks and forklifts, required these enclosures to be trafficable as severe loads through small contact wheel areas can exert high stresses. Additionally, designers required all access covers to be secure to prevent unauthorised access.
ACO's Solution
Rhinocast® Ductile Iron Access Covers.
Benefits
The product range comprises numerous sizes to suit the site's many enclosures.
All access covers are third party certified by Global-Mark to AS 3996 and rated to Load Class D.
Covers were secured into their frames with 2 locking bolts.
For more product information visit www.acoaccess.com.au.