Anti-Slip Stormwater Drainage Grates for Yagan Square from ACO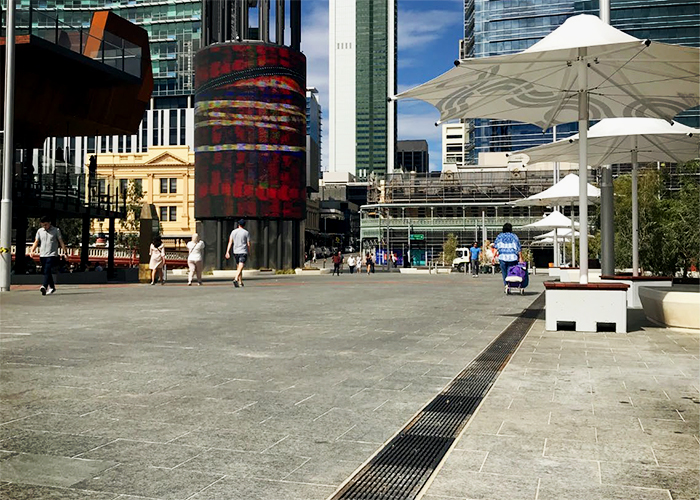 Yagan Square, Perth, WA
Yagan Square, part of the Perth City Link project, provides a pedestrian connection between the CBD and Northbridge at William Street, as well as links to the train station and underground busport. It is Perth's most popular community, meeting and celebration places featuring a 45m high digital tower, with a wraparound display screen. Each column rising from the middle of the tower symbolises one of the 14 Noongar languages.
Project Design Brief
Expected to be heavily traversed by pedestrians, service and emergency vehicles, designers wanted a flat, visually harmonious and foot friendly pavement requiring a surface drainage system capable of removing stormwater runoff on wet days. Additionally grates needed to be durable, have small openings and be slip resistant.
ACO's Solution
KlassikDrain K200 with Iron Intercept Heelsafe® Anti-Slip grates.
Benefits
The 0.5% built-in slope in the K200 channel allowed the new pavement to be constructed as flat as possible and still provide efficient drainage.
The Iron Intercept Heelsafe® Anti-Slip grate provides slip resistance of P2 to AS 4586 and Load Class D to AS 3996, which met the designer's requirements.
Slot opening of 7mm is deemed safe for high heels and is also compliant to AS 3996.
For more product information visit www.acodrain.com.au.