Corromesh Security Fencing from Australian Security Fencing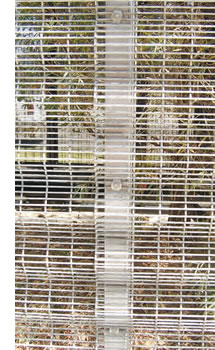 Unique Features of Corromesh® 358
The contemporary form of Corromesh® gives a smooth traditional corrugated appearance belying the strong security characteristics of the mesh. The horizontal corrugations give the fence line a stylish and distinctive appearance which suits the landscape and allows high levels of transparency.
The rib design of Corromesh® provides maximum strength, making it ideal where a very strong but simple appearance is required.
Corrugations allow Corromesh® fencing to be stepped evenly over uneven landscapes to provide a continuous uninterrupted fence line.
Corromesh® can be fixed to any style of post. The corrugations in Corromesh® provide security protection for the post fixings.
Corromesh® sheets are able to be overlapped in any direction to form a continuous layer.
Corromesh® stacks and packs neatly for easy handling and delivery.
PROFILE
Corromesh® 358 security fencing is formed by inserting a continuous wave evenly over the width and length of the weld mesh panel. This wave profile allows for the Corromesh® panels to be made continuous in either length or height. Corromesh® panels can be fitted to almost any structure from either the rear or front.
The Corromesh® panel fixings become obscure by being placed in the valley of the weld mesh panel. The type and number of fixings used can be varied to suit the applications security level.
APPEARANCE
Corromesh® fencing is available hot dipped galvanised or any range of powder coat finishes. The narrow mesh aperture provides excellent visibility for cameras or surveillance and allows the mesh to blend unobtrusively into the background landscape. Corromesh® gives a smooth aesthetic appearance belying its high security benefits.
APPLICATIONS
Corromesh® is suitable for any situation that requires a high security barrier with anti climb, anti cut qualities combined with an unobtrusive appearance.
Parks and waterways fencing
Council Depots
Government Utilities: Water, Electricity, Gas, Rail, Bridges etc.
Industrial developments
Schools
BENEFITS

Highly anti corrosive zinc alloy finish.
Anti climb, finger proof apertures with spike top.
Light weight, extremely rigid weld mesh sheet.
Quick and easy to install.
Can be retrofitted to existing posts.