Heavy-Duty Load Capacity Access Covers and Frames from EJ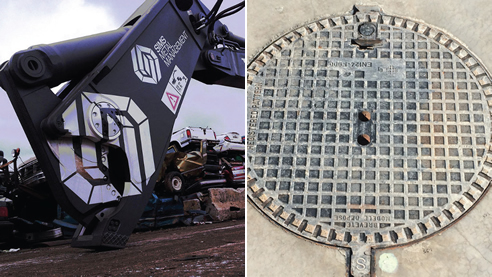 Heavy Metal, Solo Access - The EJ Solution at Sim's Metal
At Sim's Metal recycling plant in Henderson Industrial Park south of Perth, the ground is bristling with 20 new Solo F900 access covers. These heavy-duty hinged covers were selected over standard drop-in units because they are regularly accessed and best of all, they can be easily opened by one person - going it solo, if you like.
Not only that but when the cover is open and in the locked position, they act as a safety barrier and the cam-lock provides first class security as no one can randomly access them without the unique key.
In this case, the specifier was BGC Construction who noted that this site required extra heavy-duty load capacity covers and frames because of the constant movement of heavily loaded machinery.
Solo F900s are manufactured in the EJ foundry at Picardie, France. For more information about how Solo can solve your access problems, contact your nearest EJ branch or call 07 3216 5000.