Port Access Covers and Grates Case Studies from EJ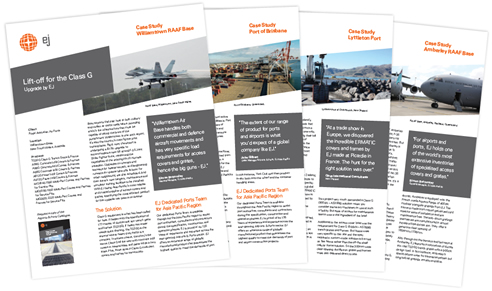 EJ Storms The Ports Of Asia Pacific
Sea ports and airports in the Asia Pacific are now able to avail themselves of world's best technology when it comes to access covers and grates specifically designed and manufactured for such busy, heavy traffic border gates.
Typically, airports are strongly favouring the latest Hinged Hatches from EJ because of their long, hard wearing construction and innovative safety and security features. These are ductile iron in both cover and frame and are Class G standard. In two cases - Amberley Airbase in Queensland and Williamtown in New South Wales - security is a strong focus so the Hinged Hatches from EJ are the perfect answer with their totally lockable feature.
In stormwater trenches and grates, the solution must also be able to withstand ultra heavy loads and wherever aircraft movement occurs, Class G grates in ductile iron are once again the number one preference. Again, security is taken care of as they're fully bolt-down lockable.
Seaports infrastructure is no less demanding of extra-heavyduty traffic, with daily movement of container straddle carriers and gantry cranes, 12 months a year. Hence Port of Brisbane has installed kilometres of TG30G trench grate and frame.
Lyttleton Port of Christchurch in New Zealand actually utilises the custom-manufacturing services of EJ where ERMATIC™ covers and frames have taken up residence. An epoxy coating was applied to the iron components to ensure best performance in the sea port environment.