Linear Drainage Systems for Roads from ACO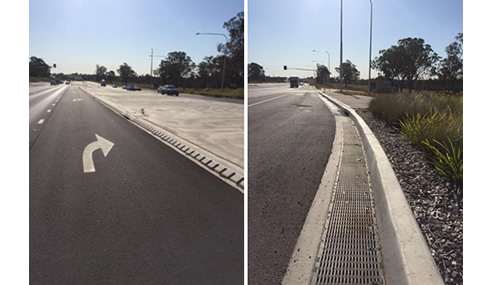 The Installation of ACO drainage products in the Camden Valley Way Upgrade
ACO has serviced the Australian market for over 20 years as an industry leading supplier of its world renowned trench drain systems. The Australian manufacturer offers a number of linear drainage systems for roads ranging from lockable grated trench drains to monolithic drainage systems.
Due to some inherent disadvantages with traditional kerb inlet pit and pipe systems, ACO's trench drains are specified for a number of problem solving drainage applications in roads.
As part of the Australian Government's investment of $50 billion into improving transport infrastructure, Camden Valley Way underwent a major upgrade. ACO's heavy duty roadway grated trench drains and RMS approved kerb inlet drains were installed. These specialist drainage systems eliminate the need for excessive pits and pipework allowing the drainage excavation to be kept shallow to avoid conflict with other services. The drain's effectiveness also leads to a reduction in gutter flow widths, aquaplaning and pedestrians from getting splashed.
ACO's KerbDrain seamlessly provides effective and efficient drainage to prevent storm or flood water from becoming a hazard for motorists. Efficient interception of surface water at the kerb line is achieved with an integrated kerb and inlet system with underlying drainage channel. Complete with inspection points, the system is easily-accessible and aesthetically pleasing.