Symmetrical Acoustic Solution for Trinity College from Atkar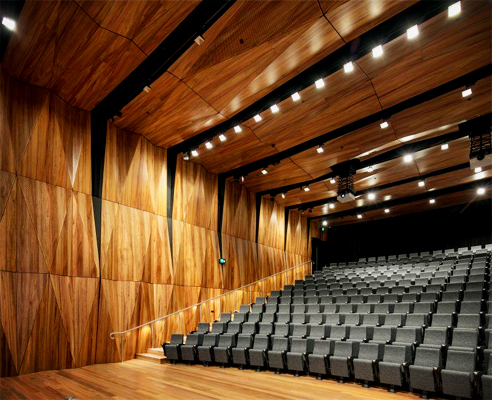 A new state of the art precinct at the University of Melbourne incorporating a 300 seat auditorium, 5 drama rooms, art gallery, music room and classrooms over 3 levels.
A truly unique project, this exceptional design features a combination of perforated and solid triangular timber panels creating a symmetrical wave like contrast rippling in warm tones. Custom folded 3D ceiling panels wrapping down onto the walls and flowing from the entrance and into the auditorium provide optimum acoustic performance with a simultaneous visual impact. The Blackwood veneer leaves were handpicked by McIldowie Partners then applied in a mismatched style to the panels. Having established a proven track record of achievement extending over many years, McIldowie Partners had confidence Atkar would be able to deliver on expectations and collaborated closely with Atkar to develop the design.