Hinged Hatch Type Covers Class G for Ports from EJ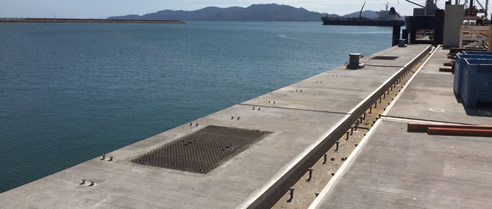 Port of Townsville Rolls Out Big Guns EJ Covers
Owned by Queensland Government, the Port of Townsville is one of the largest in Queensland. Its first shipment docked in 1863. Today, it is the country's leading exporter of zinc, lead, sugar, fertilizer and molasses, and plays a key role in the sustainability of the North Queensland economy. During the 2016/2017 financial year, Port of Townsville handled nearly $8 billion in trade. And not only cargo ships, the Port also plays host to the Royal Australian Navy and the US Navy as well as the growing cruise ship industry.
Increasing trade volumes have necessitated the establishment of a $40.7 million programme to ensure the long term future to compete as a truly global port. To achieve these aims, Berth 4 was extended from 200 to 241 metres and the berth depth was increased to 12.5 metres to allow for larger shipping vessels. Local Townsville company, CivilPlus Constructions Pty Ltd, successfully delivered the Berth 4 project over a two year build.
The new specified manhole covers were installed for the delivery of power, water and communications for visiting ships. EJ Hinged Hatch type covers were specified and installed and comfortably accommodate the extra heavy loadings under Australian Standard AS3996; Class G 900kN. These extremely robust covers are designed and cast to bear the 90 tonne weight of container straddle crane wheels. But at the same time, they're easy to open with a mechanical lift-assist strut that makes it a one-man task.
A generous opening to 105 degrees reveals a self-engaging safety bar and an optional hi-vis safety grate. Choose from a variety of bolt-down arrangements including FOD and high security. Size options: 610mmx610mm, 762mmx762mm, 762mmx1575mm, 915mmx915mm, 915mmx1880mm, 1219mmx1219mm. Soft close of the cover and discover your optional custom badging of brand or network services.
So the Class G 900kN covers are ultra-tough but simple to open for a single operator. For more information, please contact your nearest Airports & Ports team or call 07 3216 5000.