Waste System Access Hatches and Covers from EJ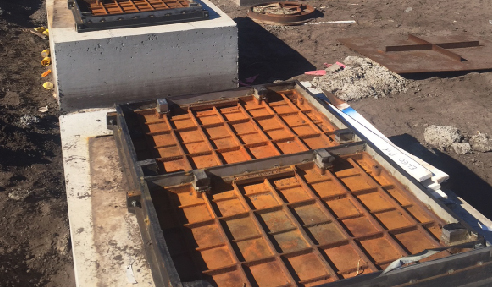 EJ Caps Off Australia's Largest Vacuum Cleaner
Queensland's Sunshine Coast Council is well into constructing a $21 million Australian pioneering venture in waste collection technology, with the installation of the Swedish developed, hi-tech Envac Waste System, as part of the extensive redevelopment of the City Centre - rebadged Sun Central Maroochydore.
EJ, working hand-in-hand with one of the project's developers, Shadforths Civil, has been charged with supplying a diverse range of access hatches and covers to complement the intricate workings of the Envac Waste System.
It works like this. Rather than using wheelie bins, waste will be transported from commercial buildings and apartments at up to 70 km/h through a 6.5km system of underground vacuum pipes located beneath the new Sun Central township. Access points being a necessary feature of this system means that EJ has had to source very specific types of hatches and covers from local EJ and its global foundries.
Amongst the more heavy duty covers are the MAXIMO™ 800 from the French foundry and from the US, a hinged hatch with a clear opening of 1200mm x 1200mm. Also on this specification order were a number of locally manufactured Electrical Pit Brass Edged Covers. Stainless Steel Step Irons from the UK completed this project's checklist from EJ.
But that's not all. A project of this enormous scope also covers sewerage, stormwater and other electrical infrastructure, and hence EJ has been called upon to supply appropriate hatches and covers including 200+ Stainless Steel Edged Covers for Energex pits.
EJ is proud to be associated with the Sunshine Coast Council's Australia-First development using Envac, and also the partnership with Shadforths Civil, in bringing this amazingly advanced story to life. For more information, visit www.ejco.com.au today.