Decorative Tree Grates in Cast Iron from EJ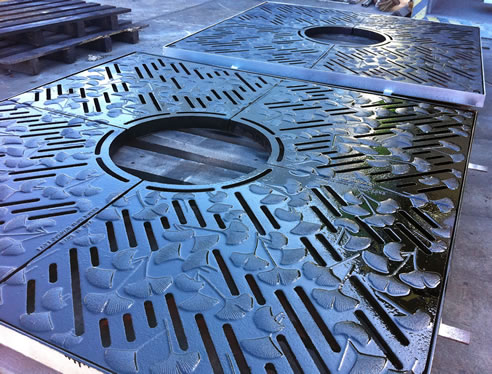 USA TREE GRATES ADOPTED IN AUSTRALIA
New cast iron tree grates from the USA have been making their mark in Australia.
"Since being introduced to Australia some 18 months ago, the decorative tree grates are fast becoming a popular product for us." said Ian Maddocks, EJ's Qld Sales Manager.
Tree grates have been supplied to:
Goondiwindi Street Upgrade
Forbes Shire Dam Recreational Park
Padua College
St Peters Lutheran School
Mackay Base Hospital
Private Homes
The cast iron tree grates are made by EJ's parent company, East Jordan Iron Works (EJIW) in Michigan, USA.
Cast iron tree grates are cast from 87% recycled materials such as old engine blocks, axles and the like.
EJIW tree grates are also available with custom logos, light ports, security bolting down and matched trench grates.
EJ is stocking a wide range of EJIW tree grates and tree guards at their warehouses in Brisbane, Sydney, Melbourne and Perth.
Catalogues are available by calling your local EJ office.