Cable Identification Technology by TE Connectivity from GV Kinsman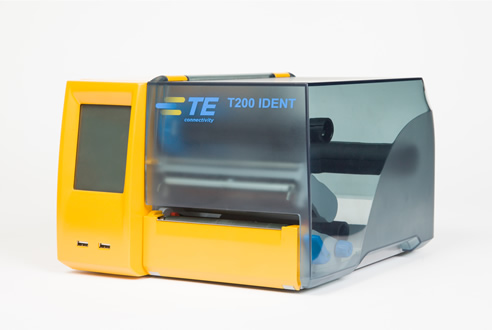 G.V.Kinsman introduces the T200 & TE3124 the latest in cable identification technology from TE Connectivity.

Get the most out of your Cable Identification and Labeling. The all-in-one T200 & TE3124 Cable Identification Printers from TE connectivity (TE) bring together a complete solution for your economy range of Thermal Transfer printing needs. The increased accuracy and the added flexibility of a movable Media sensor extends the variety of products approved for this printer while reducing the number of misprints. The touch screen provides an easier user interface for setup and enhances your using experience. Reduce cost and any downtime between print jobs with the T200 & TE3124 Cable Identification Printers. Key Features:
Light-weight
Simple ribbon and media loading procedure
Automatic calibration
Superior print position accuracy
Cutter and perforator option available
Touch screen
Why Heatshrink is the best cable identification solution? Heatshrink cable labeling solution materials are available for a range of different applications. Suitable for Mass Transit, Marine, Industrial, Military & Aerospace industries with options to run Zero Halogen, Military grade, oil resistant and other specific heatshrink types this is a flexible and economical cable labeling solution. One size fits several wire diameters which means:
Simpler solution
Less material to inventory
2:1 and 3:1 shrink ratios
Sizes range from 3/32" to 2 1/4" diameters
Different colors available
Installed sleeve have a low profile, and are light weight
Tubular sleeves do not fall off in service
Thermal, dot matrix and laser printable
Are you eligible for a FREE PRINTER!? If you're looking for a new Cable Identification Printer, perhaps you're looking to replace your old dot matrix printer, you may be eligiblefor a FREE PRINTER! For more information on how you can get a free TE Cable Identification Printer and for further enquiries about our range of cable identification and cable labeling solutions please contact us and speak with one of our product technicians.