Drum Jack Stand DJS-58T from GV Kinsman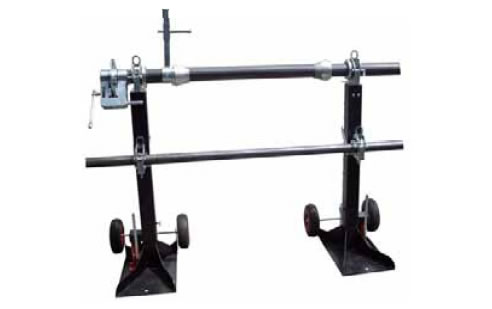 DJS-58T - Drum Jack Stand
13 tonne W.L.L. max std drum 3M Dia. X 2M wide
These stands have been tested to work safely up to 8 tonne SWL. Each set is provided with:
2 cones & 4 collars for securing the drum.
2.8mt x 90mm standard axle (Heavier and longer axle is available for a 10 tonne lifting capacity).
Drum carrying capacity of 3m Dia.
2 x 250mm extension blocks - increases height by 250mm.
2mt transverse mount (up to 2.4m available)
Two frontal roller slides for smaller drums.
User friendly instructions.
Manually operated disc brake (shown in picture adjacent) can be purchased as an optional accessory (DB-900).
2.4mt x 63mm axle with cones & collars available for lower bar position.