Access Cover Rescue with the JackaRoo™ from EJ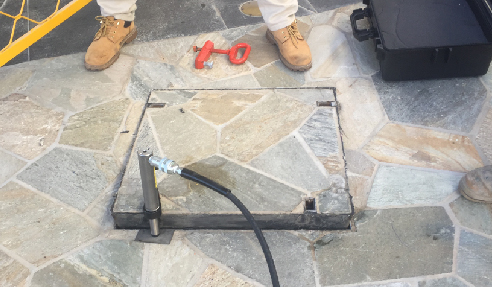 EJ is on Song
When an Install Goes Wrong
It is a very rare occurrence but sometimes, manhole cover installers miss a note or an instruction. Such was the case in an installation in a New South Wales Westfield Shopping Centre. Two decorative covers by EJ were incorrectly installed during the recent rejuvenation of the centre.
The onsite maintenance crew was unable to remove the covers to access the Halgan Grease Traps below. These traps need emptying monthly. But because the travel bolts had not been removed before installation, and the covers had been concreted in place, there was no way the maintenance crew could open them.
With other brands of cover, the course of action would be to cut out and remove the concrete so a new cover could be installed. With EJ, the solution is easy and inexpensive. EJ National Sales Manager Ian Maddocks and NSW Sales Executive Brian Baron came to the rescue.
They armed themselves with the JackaRoo™ from EJ and with it, they successfully removed both lids in minutes, with no damage to either the cover or the surrounding pavers and concrete.
Interestingly, even if the covers had been another brand, our JackaRoo™ would most likely have been the perfect solution. To get help with an embedded cover or if you need a JackaRoo™ in your armoury, visit www.ejco.com.