Stainless steel drainage for wet areas from ACO Polycrete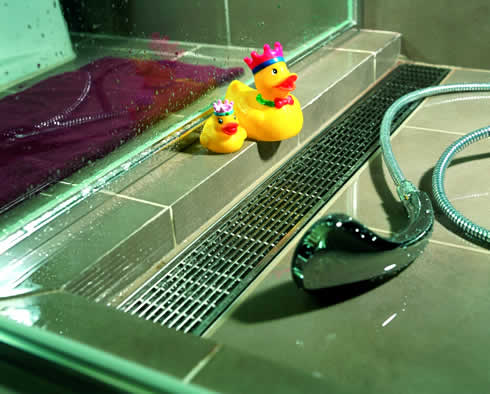 Wet areas provide one of the most visible environments for drainage systems, requiring designers to select quality products for optimum performance, aesthetics and safety.
ShowerDrain from Australian manufacturer ACO Polycrete is a floor grate and trough system specifically designed for the drainage of residential wet areas. Manufactured from 100% 304 grade stainless steel and built to custom lengths, ShowerDrain can easily be secured into the topping screed, ideal for existing (retrofit) or new bathrooms. ShowerDrain comes complete with a unique patented grate designed with anti slip features to ensure surfaces are safe to walk on when wet. For efficient drainage, the grate also has specially formulated side inlets leaving wet areas free from hazardous water build up.
ShowerDrain is fully accredited to the strictest regulatory requirements and can be installed adjacent to walls, shower hobs and even in hobless applications for uninterrupted safety of passage.