Anti-Ram Cable Fence System from Australian Security Fencing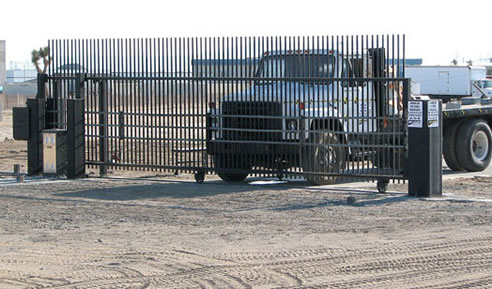 The ASF Anti Ram Barrier System by Gibraltar one-of-a-kind cable barrier system created to with-stand the impact of a vehicular attack. Combining equal parts of performance and cost efficiency, ASF Anti Ram Barrier System by Gibraltar covers all ratings, K-4 thru K-12, to fit your desired level of security. Built to the United States of America Department of State Standard ASTM F2656-07 to achieve the highest possible of Penetration rating of L3. To achieve this level of protection the Fence and Gate System must be able to successfully arrest a 6804kg (15000lb) truck traveling at a 80kph(50mph) with a maximum load penetration from the original fence line of 1 metre(3ft 3in).
The ASF Anti Ram Barrier System by Gibraltar has successfully completed multiple live tests to meet this standard in both The United States of America and The United Kingdom (PAS68:2007 Specification for Vehicle Security Barriers).
ASF Anti Ram Barrier System by Gibraltar is a cost effective solution for obvious High Asset Targets such as:
Defence Facilities.
Diplomatic Embassies.
Critical Infrastructure.
Nuclear Plants.
Airports.
Sea Ports.
Petroleum/Gas Utilities.
Ammunition Stores.
Whilst having obvious abilities in anti terrorist activities, the ASF Anti Ram Barrier System by Gibraltar can be just as effective in securing high value items such as:
Exotic Vehicles. Truck sales.
Camper/Caravan sales.
Farm Machinery.
Light Earthmoving Machinery.
Cash Handling Warehouses.
Cables are run in single unbroken lengths (up to 610m (2000") with clamped cable collars at every post, including intermediate posts - an important feature that effectively contains the loading on impact along the intermediate posts rather than relying on the end posts to cope with the full loading. Combining in equal parts, performance and cost efficiency, The ASF Anti Ram Crash Barrier System is scalable and can meet K-12, K-8 and K-4 ratings for anti-ram vehicle barriers and meet various penetration ratings.
The system may be used as a stand-alone system, or may be installed combined with or retro-fitted to any existing High Security fence including: Securemax, Corromesh, or into any typical boundary fencing including: chain link, ornamental iron, mesh, vertical bar etc. Regardless of the application, the relative ease and speed of installation ASF Anti Ram Barrier System by Gibraltar is likely to prove to be the most cost-effective solution available on the market today. Especially when coupled with ASF's own High Quality Management Systems.
The unimpeded visibility of the ASF Anti Ram Barrier System by Gibraltar, allows for existing camera and sensor based security to be maintained whilst a shallow footing option will protect existing underground services.
The heavy duty construction and high quality surface protection gives an added visual deterrence whilst minimising preventative maintenance requirements.