Protective Urethane Floor System from Ascoat Contracting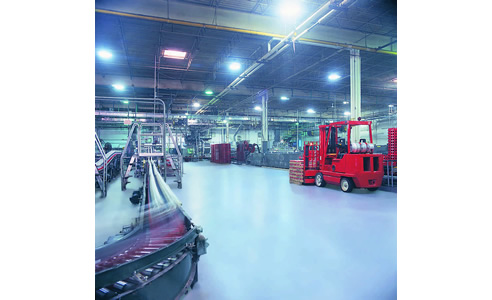 TOUGH ENVIRONMENTS CALL FOR A TOUGH FLOORS

Environmental conditions in a bottling facility are harsh, especially for their floors. Thermal shock resulting from regular hot water washdowns in low temperature areas is a particular concern. Acids, alkalies, sugars and other corrosive substances are everyday factors in the bottling industry but are hazardous to vulnerable floors. With these conditions at work, your facility's floors are in danger of degradation, leading to more serious safety, sanitary and productivity issues. Coca-Cola's facility was no exception. The epoxy mortar floor system that was in place failed to stand up to the combination of chemical and thermal exposures. The system had degraded to the point where puddling was becoming a potential slip-and-fall hazard for employees. In addition, sanitary conditions were jeopardized because bacteria now had a place to build up and production was impeded due to constant maintenance. Coca-Cola found a solution to their floor woes in Stonhard's new Stonclad UT floor system. Stonclad UT's unique multi-functional urethane-urea chemistry provides many benefits over traditional polymer floor systems. Excellent Chemical Resistance Stonclad UT resists the corrosive substances commonly found in the bottling industry. Even after continuous exposure to these chemicals, Stonclad UT maintains superior abrasion and impact resistance. This is vitally important in the beverage industry, where a seamless surface that does not harbor dirt and bacteria is a must. Unsurpassed Thermal Shock Resistance Stonclad UT can withstand temperatures up to 250°F/121°C and temperature changes up to 160°F/88°C. These extremes are typical in bottling plants and frequently cause other floor systems to fail, as was the case of Coca-Cola's epoxy mortar floor. Low Odor Installation Stonclad UT can be installed without shutting down adjacent areas. This means that facilities can continue to operate while Stonhard's floor system is installed nearby without concerns of tainting their product. Quick Turn Around Stonclad UT requires less application time than traditional epoxy floor systems, with only a two step installation process. The system can withstand heavy traffic within 12 hours. This means shorter shut down periods. Decreased Sensitivity to Moisture Substrate dampness and high humidity, commonplace in beverage bottling plants, are not a concern. Unlike other flooring systems, Stonclad UT can be installed in these conditions. Decreased Sensitivity to Cold Temperatures Even as low as 45°F/7°C, Stonclad UT can withstand foot traffic in just eight hours. Three Texture Options To achieve the optimal balance between cleanability and slip resistance, Stonclad UT is offered in three different levels of texture. Wide Range of Color Choices Stonclad UT is available in ten standard colors and custom colors are available upon request to complement any decor. Proven Results Before introduction to the beverage industry, Stonclad UT had undergone independent testing against acid brick, tile and epoxy floor systems to verify long-term chemical and thermal shock resistance. These tests were designed to simulate how the systems would hold up over 18-20 years. This included 1,040 thermal cycles with a temperature change of 120°F/67°C and exposure to chemicals and cleaning agents normally used in the beverage industry. The results showed Stonclad UT to be superior in its ability to withstand thermal shock and chemical exposure commonly found in the beverage industry. Stonclad UT's unique chemistry is designed to minimize the effects of thermal stresses that can cause failures in conventional floor systems. Its superior performance separates Stonclad UT from the competition. Additionally, ease of cleaning and long-term slip resistance means, Stonclad UT far exceeds its competitors in every area. This same experience held true for the Stonclad UT floor installed in the Coca-Cola bottling plant in Chicago. Their General Manager states, "We chose Stonhard because they researched our processing procedure so thoroughly, right down to our chemical exposures, before making a product recommendation. This ensured us a flooring solution that works." Stonhard has an extensive list of references for Stonclad U T in environments ranging from meat and poultry plants, dairies, breweries, bottling plants and other food processing applications.


03 9587 7433
80 Industrial Drive, Braeside, VIC, 3195