Perimeter drainage system from ACO Polycrete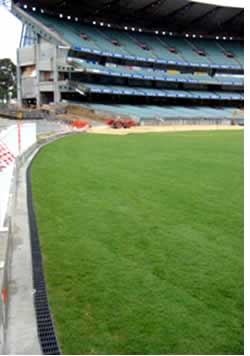 The Melbourne sports precinct, dominated by the Melbourne Cricket Ground (MCG) has the distinction of being one of the largest sporting districts with such close proximity to a CBD. Due to the upgrade in preparation for the Commonwealth games, the MCG now seats almost 100,000 spectators.
Part of the refurbishment was the most significant surface works performed at the ground in its 150 years. This involved careful coordination of the arena renovation and ground works with the construction of the running track. In preparation for the laying of the track base, the crown was completely removed and prior to the reinstatement of the centre wicket slab and portable pitches, a new irrigation and drainage system was installed.
600 metre's of perimeter drain, supplied by Australian manufacturer ACO Polycrete was installed along the boundary fence and beneath the advertising awnings. KlassikDrain K100, complete with durable, UV stable polypropylene grates and robust ductile iron grates for areas of vehicular access was selected principally for its ease of installation and maintenance.
KlassikDrain is a grated trench drain complete with QuickLok, ACO's patented boltless locking system allowing for quick access to trenches for maintenance. KlassikDrain's metre long modular trench channels can be assembled to produce sloped runs, ideal for level ground surfaces. Channels are available in 3 widths, manufactured from durable polymer concrete and can be supplied with over 10 different types of grates.
Nominated by the project's track manufacturer MONDO, a further 600 metre's of ACO's specialised sports drain system, Sport 3000, was installed for the drainage of the running track, as well as the long jump and presentation areas. Made entirely of polymer concrete, Sport 3000 is a slot drain supplied in straight and radiused channels. Specifically designed to provide a continuous run around the entire running track, the drain was laid beneath the synthetic topping with only the drainage inlets exposed. ACO's specialised systems are synonymous with major sporting stadiums including the Sydney Olympic Stadium and has provided this niche industry with proven quality products for over 30 years.