Electric detection perimeter fencing from Australian Security Fencing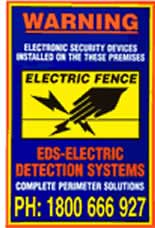 Australian Security Fencing has taken perimeter security to the next level with this unique range of EDS Electric Detection System products. The EDS fencing system is one of the few perimeter systems largely developed and manufactured in Australia and is continually proving to be the most reliable and cost effective method for perimeter security. A standard EDS system is 2.7 metres high consisting of thirty wires, an electric fence barrier that exceeds previous fencing systems. The compulsory warning signs and the systems deterring appearance warns would be intruders that there is a real risk of receiving a sharp regulated shock if the electric fence is deliberately touched, tampered with or climbed. The systems unique ability to monitor the electric fence line ensures reliable security of people and property.
The Security Energized Fence System comprises if a series of horizontal, smooth, corrosion resistant, high tensile steel or alloy wires, positioned approximately 90mm apart. These wires are tensioned to between 30-40 kilograms and supported by specially designed insulators fitted to the Security support and strain posts.
Energised Security Fence Systems can be fitted to almost any existing wall/roof or fence, or can be installed inside the boundary as a freestanding barrier. Care is taken in the system design to ensure that the Security Fence is correctly applied and that no "man traps" are formed. Energised Security Fence Systems are extended to a minimum height of 600mm above an existing fence or wall, to provide an anti-climb section.
All gates are fully protected in a similar manner, with the addition of a high security gate switch. The electric fence gate switch is suitable for mounting on all types of gates, as well as providing fully protected exit/entry routes. They are also used to generate instant alarms whenever unauthorised gates are opened, during the protected period.