Forcefield from Australian Security Fencing to secure premises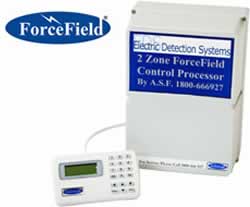 Unique Systems Capability
Fence Zoning.
Full Live Wire Fences.
LCD Keypads.
Selectable Zone Control.
Hi-Low Voltage Monitoring.
Pulse Synchronisation.
Smart Battery Backup.
Digital Voltage Display.
Purpose built design.
The Electric Fence System.
The system includes between 1-9, two channel ForceField® controllers and a keypad. Applications can include a maximum of 18 individual electric fence zones or 9 full live wire dual detection fence zones. Regulated pulses are monitored for cut, short, climb, tamper and cross coupling. Touching the electric fence will provide a short, sharp, safe electric shock. Each electric fence zone may be configured to monitor in Low Voltage mode providing monitoring of the electric fence integrity during normally disarmed time periods.
Full Live Wire Electric Fence
The ForceField® control units provide a unique ability to detect cross coupling of any two zones. This feature allows for every wire in the fencing system to not only be monitored but also provide a backup system should one zone be attacked ie. a full live wire electric fence system provides two levels of detection.
Individual Zone Control
Each ForceField® channel or zone may be armed individually in both high voltage and low voltage modes. This allows for total control for access or servicing of individual areas around the electric fence site.
Keypad The intelligent LCD keypad displays information regarding all programmable options of the ForceField® controller. Features such as arming/disarming the electric fence, area control and real time voltage are displayed on the keypads large graphic display.
Purpose Built and Designed
Each of the ForceField® controller components have been designed specifically for the function it performs, optimising the system for ease of use, installation and service throughout its life span.