Plexicushion by Court Craft for tennis courts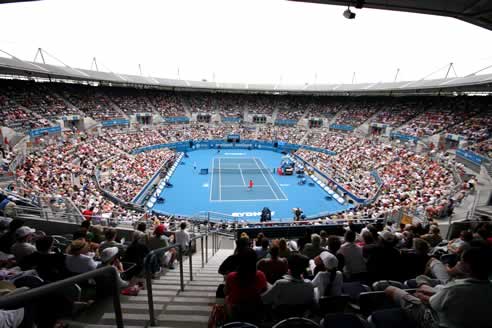 Tennis NSW has selected Plexicushion to be installed at the Sydney Olympic Park Tennis Centre at Homebush which is the home of Tennis NSW. The work involved the removal of the existing surface, base preparation, asphalting and the installation of Plexicushion to all 16 courts.
Court Craft has recently finished this project ensuring that the courts are ready for the Medibank International.
The Australian Open tournament director Craig Tiley has announced that Plexicushion will be the new surface of the Australian Open. WM Loud Pty Ltd will be installing Plexicushion to Melbourne Park and Albert Reserve in time for the 2008 Open.
Plexicushion is the world's premier tennis surface and represents the latest in sports surfacing technology. It is a system that provides a more comfortable playing surface that enhances both team and individual performance.
Plexicushion is a specially constructed "cushioned acrylic" surface, designed to increase shock absorption in the court itself and reduce player's foot and leg fatigue.
Unlike other cushioning systems, it provides a firm, uniform surface, enabling players to play on the surface not in it. This prevents the subtle fatigue caused by playing on a soft, spongy surface. Additionally, Plexicushion is available at an affordable price.
Plexicushion is a series of resilient layers installed in liquid form on site that contain rubber and acrylic particles. The multiple cushion layers are installed prior to the Plexipave® Surfacing System.
Ball bounce and speed are not affected by Plexicushion, and users can continue to gain all the benefits of the Plexipave surface with the added comfort of the elastic layers.